Country Style Magazine
November 2022
This true getaway in Central Qld, is where you can switch off and unwind. Bloodwood Cabin is located on the regenerative organic beef farm of Bonnie Doone, 45 mins from the town of Monto. Bloodwood Cabin is one of the most popular farmsteads in Australia and quickly being found by many media outlets. Find out more here.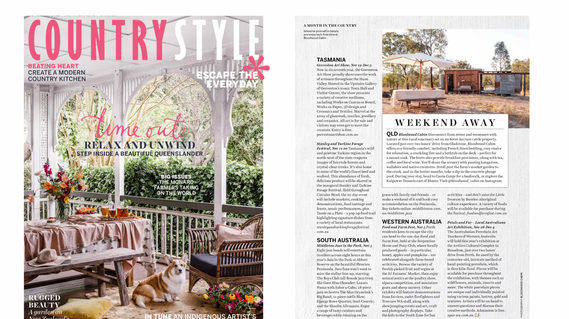 Country Style Magazine
October 2021
A rustic family home on an organic beef farm in Monto, QLD.
Growing their own food, nurturing the land and exploring creative interests are central to this young family - Claire Mactaggart
Photography: Davina Bambrick
Styling: Lucija Nezic
Galah Press
Issue 4 2021
Galah is a cultural magazine for people who care about regional Australia. Over three ad-free issues each year, Galah celebrates regional Australia and the creative, diverse and innovative people who live here. A modern voice from the bush - Galah Press
Photography: Davina Bambrick
Words: Jennifer King